OMEGA/ProScan Game of the Week - Simon Kenton at Cooper
9/15/2016 - by NKS Editor
The OMEGA Processing / ProScan Imaging Game of the Week webcast features Simon Kenton (4-0) at Cooper (3-1) on Friday.

This should be a great game to watch between our #2 (SK) and #3 (Cooper) ranked teams. Simon Kenton is coming off a 43-14 win over Dixie last week while Cooper defeated Campbell County 44-14.

The Pioneers have many offensive players to look out for. The QB combo of Cam Racke and Matt Shearer have combined for 965 yards and 9 TD's. Racke also has 273 rush yards and 4 rush TD's. Senior RB Dylan Hampton has also rushed for 259 yards and 4 TD's.

Cooper's offensive has the top QB, RB and WR stats in Northern Kentucky. Senior RB Jaden Jackson leads NKY in rushing with 542 yards and 5 TD's.
Senior QB Jerod Lonaker leads NKY in passing with 1,190 yards and 12 TD's, and Senior WR Dante Hendrix is 2nd in receiving with 393 yards and 6 TD's.

Cooper has never beaten Simon Kenton and lost a close one in the playoffs last year 13-12.

You can watch this game LIVE starting at 7:30 PM on NKYSports.com!

Simon Kenton vs Cooper Video Webcast Link

Game of the Week Replay
Last week's Game of the Week featured Highlands vs Ryle. The Raiders took care of the Bluebirds 50-14 and remain our #1 ranked team in Northern Kentucky.

NKYSports.com Replay – Highlands vs Ryle

Senior QB Tanner Morgan was our ProScan Imaging Offensive Player of the Game as Ryle defeated Highlands 50-14. Morgan controlled the game and led the Raider offense throwing for for 250 and 2 TDs.

Justin Selby was our OMEGA Processing Defensive Player of the Game. The JR Defensive Back had an early interception that resulted in a Ryle TD, and he also had some key tackles in the game.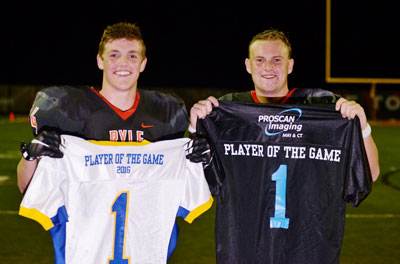 Beechwood (3-0) at CovCath (3-1)
The Tigers beat Franklin County (KY) last week 57-21 while the Colonels defeated LexCath in Overtime 21-20. This will be Beechwood's first away game of the season. Beechwood is only 2-9 against CovCath since 2005.

Holy Cross (2-1) at Scott (1-3)
Holy Cross lost to Taft last week 27-19 while Scott fell to Conner 60-8. This is a battle between 2A and 4A as Scott looks to get back on the winning side. The Eagles will have to stop Senior RB Derrick Barnes though who leads the Indians in rushing with 351 yards and 7 TD's. Holy Cross has lost the last 3 games against Scott but that could change this weekend.

Dixie (2-1) at Conner (2-1)
Dixie lost to Simon Kenton last week 43-14 while Conner crushed Scott 60-8. This is an interesting matchup and should tell us a lot about these two teams after they compete. Dixie is 7-2 against Conner since 2005.

Other games this weekend:
Harrison County at NewCath
Holmes at Bellevue
Ryle at Campbell County
Trimble County at Ludlow
Lexington Christian at Walton Verona
Pendleton County at Owen County
Boone County at South Oldham
Highlands at St. Xavier (KY)

Byes:
Brossart
Dayton
Lloyd
Newport

Sep 12 NKYSports.com Rankings
1. Ryle (1)
2. Simon Kenton (2)
3. Cooper (5)
4. CovCath (7)
5. Highlands (4)
6. Campbell County (3)
7. Conner (8)
8. NCC (6)
9. Beechwood (9)
10. Dixie (10)
Thursday, Mar 30
46,009 Games AND counting
in our database