OMEGA/ProScan Game of the Week - Beechwood vs Holy Cross
9/22/2016 - by NKS Editor
The OMEGA Processing / ProScan Imaging Game of the Week webcast features Beechwood (3-1) vs Holy Cross (3-1) on Friday.

Beechwood lost to CovCath last week 44-10 while Holy Cross defeated Scot 27-0. This should be a very good game as Holy Cross has improved tremendously this season and their defense has been stingy.

The Tigers are led by Sophomore QB Brayden Burch and Senior RB Aiden Justice. Burch has thrown for 584 yards and 5 TD's while Justice has run for 208 yards and 1 TD. The Indians are led by the running back duo of Senior's Derrick Barnes and Xavier Abernathy. Barnes has rushed for 421 yards and 8 TD's and Abernathy has rushed for 228 yards and 3 TD's.

This game is being played at Covington Catholic and since 2005 Holy Cross has never beaten Beechwood.

You can watch this game LIVE starting at 7:00 PM on NKYSports.com!

Beechwood vs Holy Cross Video Webcast Link

Game of the Week Replay
Last week's Game of the Week featured Simon Kenton vs Cooper. The Pioneers controlled the entire game and defeated the Jaguars 46-20.

NKYSports.com Replay – Simon Kenton vs Cooper

Jon Sergent was our OMEGA Processing Offensive Player of the Game as Simon Kenton defeated Cooper 46-20. Sergent had 9 rushes for 140 yards and 1 rush TD, he also added a receiving TD.

Markie Rider was our ProScan Imaging Defensive Player of the Game as he recorded 13 tackles for the Pioneers (8 solo).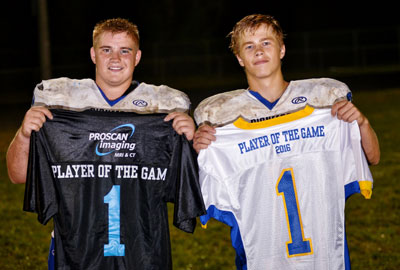 Simon Kenton (5-0) at Highlands (1-4)
Simon Kenton, ranked #2 in our poll behind Ryle took care of Cooper last week 46-20 while Highlands lost at St. Xavier KY 45-18. Despite Highlands' record they're still always a team to watch out for and ranked #5 in our rankings. The Bluebirds will be hungry but Simon Kenton has been solid all year. Simon Kenton won this game last year 42-3 at SK.

Dixie (2-2) at Boone County (0-5)
Dixie lost to Conner last week 40-8 while Boone County fell to South Oldham 35-14. Dixie started the season off 2-0 but has lost 2 in a row since. The Rebels are looking for their first 'W' of the season and it won't get any easier next week when they face Simon Kenton. The Colonels have won 3 in a row over Boone County.

NCC (2-3) at Conner (3-1)
NewCath defeated Harrison County last week 42-10 while Conner beat Dixie 40-8. Conner has been slowly climbing our rankings and is now #6. The Breds are looking for their first big win of the season. The Cougars won this game last year 21-17. This game is being played on Saturday and will also be televised on Channel 64 at 7:00 P.M.

Other games this weekend:
Bracken Co at Dayton
Bethlehem at Bellevue
Owen Co at Newport
Mason Co at Scott
Bath Co at Pendleton Co
Walton Verona at Carroll Co
Lloyd at Garrard Co
Holmes at Harrison Co
Cooper at LexCath
Brossart at Nicholas Co
Campbell Co at Western Brown
Ludlow at Williamsburg
CovCath at St. Francis de Sales

Byes:
Ryle

Sep 19 NKYSports.com Rankings
1. Ryle (1)
2. Simon Kenton (2)
3. Cooper (3)
4. CovCath (4)
5. Highlands (5)
6. Conner (7)
7. Campbell County (6)
8. NCC (8)
9. Beechwood (9)
10. Holy Cross (11)
Wednesday, Mar 29
46,009 Games AND counting
in our database